Remember my previous post about some shoes I ordered? If not here's a reminder "
CLICK
". They arrived a couple day's later, yes yes that make's this a late post but really it's never too late where shoe's are involved

haha. I guess this mean's I can't use the '
I have no nice shoe's to wear
' Excuse to avoiding going out, we tomboy's love using that one haha.

My mum's eye's almost popped out of her head when she saw all the shoe's I bought
. I'm making an effort to be more feminine
Elias
: Purple, Canvas,
£30
/£24.
Yesh I had to satisfy my PURPLE/HIGHTOP addiction!!
I couldn't order all those heal's/wedges and NOT ordered these babies! Grrrrrr
Sadly I wont really be able to wear these that often as the wet season's are approaching. I'm not gonna risk ruining them, I love the too much

.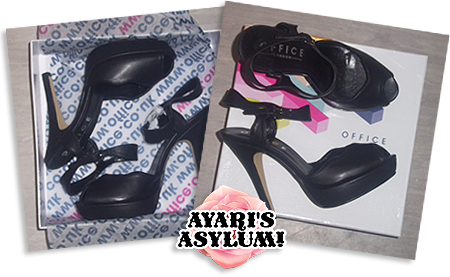 Madame Butterfly
: Black, Leather, 5inches,
£68
/£16.
Now these beauties are a killer but well worth it
. Simple and elegant

. Really need to get used to the height

.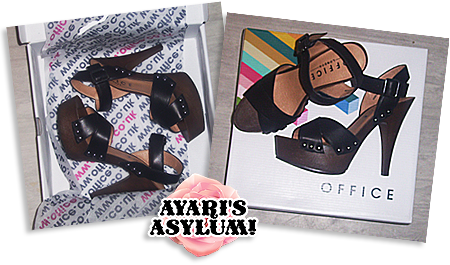 Make My Day
: Black, Leather, 4.5inches,
£66
/£24.
These are soo sexy

. I couldn't believe they were so cheap considering the style and material
! Thank you oh kind and merciful God for that wonderful
SALE

!
Wannabe Wedge
: Black, Canvas/Leather, 4.5inches,
£78
/£12.

I had my eye's on these from when Office first added them to there website
and I thought 'ONE DAY YOU WILL BE
MINE
!!!' Now they are
.

PS; More recently I bought a pair of Dr. Marten's

quite masculine but so warm and comfy! Warm toes this winter!!

xoxo