I finally got some money and decided to treat myself

I've been looking for a decent pink lipstick for a while now &&
I think I may have found it in the form of MAC's Lickable!!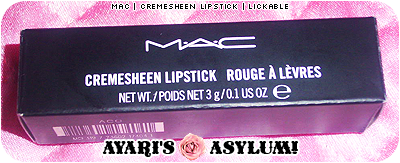 Why I love MAC's Cremesheen Lipstick in LICKABLE...
Has simple and yet cute packaging. Doesn't take anyway from the product.

Doesn't dry out my lips which is important as summer is coming up.

Don't want to walk around which cracked lips.


Bright and Bold. Versatile enough for any style, it doesn't matter if your a rock chick or a girly girl or egdy, you can make it work for you.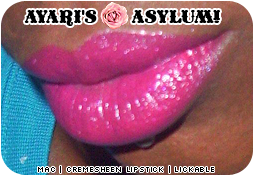 MAC Cremesheen Lipstick in Lickable.
A very bright and vibrant colour thats bound to bring a smile to anyones lips, took a few swipes to get the colour/coverage I wanted but no matter got what I wanted in the end
a bit of a squeeze for
£13.50
. As I'm new to this lippy I'll give it a
3/5
and see how it goes.






I've wanted this lipgloss for so long!!
It was love at first sight no word of a lie!!
MAC's Funtabulous DAZZLEGLASS!!


With
Flash:

With out
Flash:



Its like a fricken magic wand!! I'm soo in love with this lipgloss!
I love how uber sparkly it is aswel!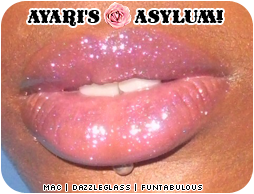 MAC's DAZZLEGLASS Lipgloss in FUNTABULOUS. I'm in love with this baby! Uber comfortable. Crazy sparkly which I
and the colour of the glitter shows up clearly. YUMMY PURPLE!
I've spent more on lipgloss before so I don't mind paying £16.00 again and defo 5/5 ugh I love it!!






I hope you all enjoyed
xoxo