"Right Click" and select "Open in new Tab/Window" To view full size image.
Super Fun & Super cute shot

What Gyaru's all about! xx

I love everything about these 2 photo's.
The Hair,
Make-Up & Outfit. Even the damn doughnut hehe.

I am in love with her hair, its so cute and I think the
hair band is adorable!

Very cute and fun outfit. I'm liking the leg warmers
and tight's.
I may have to try it out.

Omg this pic is lush! 2Tone hair with sexy curls.
Perfect make-up and amazing outfit! I love it!

The hat/scarf is awesome and I'm loving her attitude.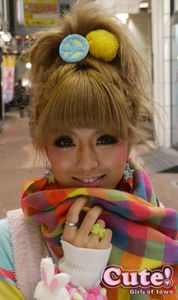 I can't get enough of the bright colours!

Love
the pink hoody on the left and the colourful
hair accessories and scarf as well as lovely
make up on the right.

Cute Girl's Of Town Rock!